Gas Leaks, Oil Spills, Other Contamination Connected to Hurricane Ian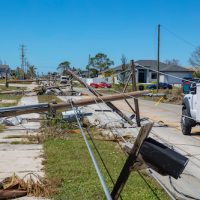 Hurricane Ian wreaked havoc on the State of Florida at the beginning of the fall. It has been declared the deadliest hurricane to hit Florida since 1935. The damage caused by the hurricane continues to be unearthed. A national hotline was established for citizens to report oil spills and other hazards, and reports have piled in. Leaking planes and jets, damaged underground storage tanks (UST), and damaged chemicals released from warehouses have been reported across the state.
The damage and necessary cleanup serve as reminders of the importance of proper gas tank maintenance and remediation of environmental damage in the event of a spill. Continue reading for details on the hurricane-related damage, and if you need assistance with a damaged or contaminated UST in New Jersey or Florida, call a qualified underground storage tank (UST) remediation and removal professional at Herbert Lutz & Co.
National Hotline Receives Dozens of Contamination Reports After Hurricane Ian
Hurricane Ian was a massive, destructive Category 4 Atlantic hurricane. The storm made landfall on September 28, 2022, in southwestern Florida and ran a path of destruction down the coast and through the Caribbean. The storm weakened to a tropical storm upon crossing over the Florida peninsula and strengthened again over the water to a Category 1 hurricane by the time it made a second landfall near Georgetown, South Carolina. Ian finally dissipated over Virginia by late October 1.
Before it dissipated, the hurricane wreaked havoc across Florida's western coast, carrying heavy winds (approaching 155 mph at its maximum), significant rainfall, and catastrophic storm surges. Federal records show that the hurricane caused more damage than even the residential and commercial destruction apparent at first blush. Reports from a hotline set up following the hurricane show a number of spills and contamination sites stemming from the hurricane's destruction, including but by no means limited to the following:
Thousands of gallons of boat fuel expelled from sunken vessels into coastal waters
Ammonia and other chemicals released from damaged warehouses
More than 2,000 gallons of disinfectant leaking from a water-utility pipeline
A boat leaking jet fuel into the ground and groundwater outside a St. Petersburg home
One report identified a 550-gallon UST filled with 400 gallons of gasoline turned over and poured into the historic Peace River in Arcadia. Disputes over ownership of and responsibility for that tank in particular surfaced immediately. While the caller represented Tennessee-based petroleum company, Rogers Petroleum Inc., the company claimed that the storage tank actually belonged to a nearby marina, while the company's own tank had been safely moved to higher ground.
At some point, the proper party will need to take responsibility for the spill, as will parties responsible for cleaning up the leaking disinfectant, boat fuel, jet fuel, and other contaminants. While the cause of the destruction may be the hurricane, it falls to the owners and operators of the properties and tanks to work with the government to institute cleanups.
Call the Thorough and Diligent UST Remediation Pros at Lutz for Your Underground Storage Tank Issues
If you discover a UST at your construction worksite or if you have to respond to a UST spill on your property, you need seasoned help from trusted advisors with years of underground storage tank experience. For comprehensive, professional assistance dealing with a UST on your property, call Herbert Lutz & Company in Florida at 954-971-5222, or in New Jersey at 908-862-8888.