New Jersey Attorney General, DEP File Multiple "Environmental Justice" Lawsuits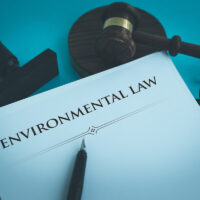 Underground storage tank (UST) leaks do not only lower your property value; they may also open you or your business to significant liability from property owners and government agencies.  New Jersey's Attorney General and the Department of Environmental Protection (DEP) recently brought six new "environmental justice" lawsuits against alleged polluters across the state.  At least one of the claims involves a leaky UST and a failure to remediate.  The latest claims are a stark reminder of the importance of hiring expert, licensed UST remediation and removal professionals to handle a damaged or contaminated UST.
NJDEP brings a variety of environmental claims in a coordinated, statewide anti-pollution effort
The DEP and Attorney General Gurbir S. Grewal filed six enforcement actions in New Jersey Superior Courts across the state, focusing on sites in Newark, Trenton, East Orange, Kearny, and Camden.  The actions allege a variety of claims under the Spill Act and the Water Pollution Control Act, specifically alleging that the defendants intentionally or recklessly polluted areas populated by minorities and lower-income New Jersey residents.
Three of the lawsuits involve companies that allegedly released hazardous substances at their properties and refused to clean them up properly.  One alleges that a now-defunct dry cleaning operation in Trenton allowed PCE (perchloroethylene) contamination to spread from a UST leak.  The company operated the business for around 15 years but later abandoned the property to foreclosure and closed the operation.  A UST on the property leaked and contaminated the property, migrating to the surrounding area and eventually spreading the leaked PCE to at least five nearby homes. 
The DEP attempted to install systems to prevent PCE vapors from affecting the residents, but the property owners failed to complete the required PCE remediation.  The State's lawsuit seeks to compel the defendants to reimburse DEP for more than $400,000 spent to date on remediation and mitigation efforts, as well as impose significant civil penalties.  These damages could have been avoided with a proper remediation effort.
The government's enforcement efforts are meant to send a message to current and would-be polluters who either intentionally dump waste into New Jersey communities or negligently allow hazardous chemicals to spread.  You do not want to be the example set by New Jersey agencies used to scare other businesses into regulatory compliance.  Retaining a proper UST remediation expert to repair, remediate, and where necessary, remove a damaged UST can make the difference between taking care of a problem efficiently and cost-effectively vs. being subject to state-sponsored enforcement actions, reputational damage, and hefty fines.
Call in the Professionals at Lutz to Handle Your Underground Storage Tank Issues
If you find a UST at your construction worksite or are dealing with a UST spill on your property, get help from trusted advisors with years of underground storage tank experience. For experienced, qualified, and dedicated assistance, call Herbert Lutz & Company, in Florida at 954-971-5222, or in New Jersey at 908-862-8888.