New Jersey Township Discovers Underground Storage Tank After Environmental Study Missed It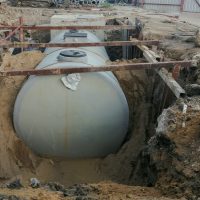 Private developers and municipalities alike need accurate information about the environmental conditions of their land. The presence of an old underground storage tank (UST), especially if there's been a leak, can delay development and drive up new, unexpected costs. It's important for any environmental survey to be thorough and complete, and any remediation efforts must be both professional and comprehensive.
The Township of Washington in Bergen County recently learned this lesson the hard way when they discovered evidence of underground fuel piping after a prior environmental study found nothing. The Township is now faced with the decision of whether to spend additional capital studying the area before purchasing the target property, and determining what remediation efforts may be necessary. Read on to learn about the snafu, and if you need assistance with a damaged or contaminated UST in New Jersey or Florida, call a certified underground storage tank (UST) remediation and removal professional at Herbert Lutz & Co.
Town Resident Disputes Environmental Study, Further Examination Reveals UST and Fuel Piping
The Township of Washington was evaluating whether to purchase a piece of property at 95 Linwood Avenue and build a new Department of Public Works building at the site. The Township had previously commissioned a Phase II environmental study which used ground penetrating radar to survey for any signs of prior historical fuel usage. The survey was, however, limited to areas behind the building (the former Charlie Brown's restaurant), near the middle of the site. Regardless, the Township was set to move forward with its purchase, with a June 14 deadline to complete due diligence by June 14.
Before the date arose, however, a town resident spoke up. The resident asked why town officials and the environmental consultant restricted their survey of the land and failed to check the front of the property. An old photograph of the property depicted at least three gas pumps that appeared to be located right on the site.
At a June 8 town council meeting, officials voted on whether to conduct a third environmental study in light of the revelations brought to light by the concerned citizen. The study would take a closer look at the front of the property to identify any potential USTs or fuel piping. Councilmembers initially rejected the third study, which would cost close to $17,000. Those council members opposed purchasing the site generally and thus did not wish to fund further study. Ultimately, however, one councilman changed his mind after a marathon closed session that ended close to 1 a.m. on June 9.
The third environmental study was then conducted, revealing indications of a possible UST and fuel piping. The June 13 report recommended an additional $12,000 to $17,000 to further investigate the site for potential contamination.
In light of the new discovery, the property owner extended the town's due diligence deadline. Ultimately, however, the Township determined not to purchase the property, in light of environmental concerns, cost concerns, and other issues.
The incident is a reminder of the importance of due diligence in environmental assessments and making sure the job is done properly the first time. Otherwise, time and money can be wasted debating a plan without having all the facts, and without knowing whether a property is safe and secure from contamination.
Call the Dedicated and Thorough UST Remediation Pros at Lutz for Your Underground Storage Tank Issues
If you discover a UST at your construction worksite or if you have to respond to a UST spill on your property, you need experienced help from trusted advisors with years of underground storage tank experience. For comprehensive, professional assistance dealing with a UST on your property, call Herbert Lutz & Company in Florida at 954-971-5222, or in New Jersey at 908-862-8888.