NJDEP Issues New Response Action Outcome Guidance v. 3.1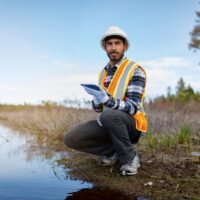 The New Jersey Department of Environmental Protection (NJDEP) has issued Response Action Outcome (RAO) guidance concerning environmental remediation efforts. Recently, NJDEP released a modified version of the guidance with updated instructions for the completion of RAOs and provided online training for ensuring that the relevant rules and statutes are followed by responsible parties. To learn about RAOs and the revisions made to NJDEP's guidance, read on. Call a certified underground storage tank (UST) remediation and removal professional at Herbert Lutz & Co. if you need assistance with a damaged or contaminated UST in New Jersey or Florida.
When Are RAOs Issued?
Response Action Outcomes are issued by Licensed Site Remediation Professionals (LSRP) to the party responsible for conducting remediation. An LSRP may issue an RAO either if no discharge has been detected or once remediation efforts have been completed and all necessary remedial action permits have been issued by NJDEP. An RAO may be issued by the LSRP at any phase of remediation once the LSRP determines that the site or area of contamination has no remaining discharges, or that the area of contamination has otherwise been remediated and the other requirements have been met.
New RAO Guidance
NJDEP's RAO Guidance lays out precisely what steps must be taken and thresholds satisfied for an LSRP to issue an RAO. The Guidance also lays out the types of RAOs that may be issued, notices that should be included in RAOs, approval processes for modifying the RAO, and RAOs for specific types of contamination. NJDEP recently issued Version 3.1 of the RAO Guidance, amending Version 3.0 which was released just a month earlier and clarifying certain instructions regarding the use of notices and the completion of RAOs. Version 3.0 also added new types of notices that may be included in the RAO.
Among other changes, Version 3.1 of the Guidance:
Clarified that issuance of an Unrestricted Use RAO is appropriate when groundwater is in compliance with Ground Water Remediation, without the need for a Ground Water Remedial Action Permit
Reworked sections concerning Limited Restricted RAOs and Restricted Use RAOs for groundwater contamination to better align with the Ground Water RAP Guidance
Removed certain erroneous items concerning the impact to groundwater soil screening levels and migration to groundwater soil remediation standards
Version 3.0 of the Guidance added several new notice types including the following:
Sediment Contamination from an Off-Site Source Not Remediated
Three On-Site Commingled Plume Conditions Exist notices
Transfer of Monitoring Well Use
Indeterminate Vapor Intrusion (VI) Pathway Not Yet Evaluated
Long-Term Vapor Intrusion Monitoring
The Guidance now includes instructions with additional examples and a shell document for use in withdrawing RAOs. NJDEP also provided training for future preparation and online submission of RAOs.
Call the Experienced and Professional UST Remediation Pros at Lutz for Your Underground Storage Tank Issues
If you discover a UST at your construction worksite or if you have to respond to a UST spill on your property, you need comprehensive help from dedicated advisors with years of underground storage tank experience. For dedicated, thorough assistance dealing with a UST on your property, call Herbert Lutz & Company in Florida at 954-971-5222, or in New Jersey at 908-862-8888.