NJDEP Can Recover Primary Restoration Natural Resource Damage Under Spill Act Regardless of Actual Threat of Harm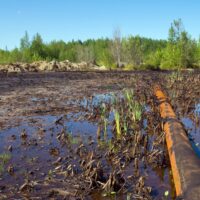 The New Jersey Department of Environmental Protection ("NJDEP") has broad authority to pursue claims for damages under the New Jersey Spill Compensation and Control Act (the "Spill Act"). According to New Jersey courts, the NJDEP can seek damages for the primary restoration of a natural resource, via an expedited and more expensive restoration plan, even where there has been no actual or threatened damage to human health, plants, or animals. Read on for a discussion of a case permitting such restoration damages, and reach out to licensed UST remediation and removal professionals if you need assistance with a damaged or contaminated UST.
New Jersey Court Permits Restoration Damages Upon Showing Restoration Plan is Practicable
The case titled NJDEP v. Amerada Hess Corp concerned contaminated groundwater near five gas stations in New Jersey. The defendants were remediating the groundwater, but their remediation would not completely remove the presence of one of the gasoline additives that had leaked. The NJDEP sought natural resource primary restoration damages under the Spill Act. Primary restoration damages refer to the cost of restoring a natural resource to the pre-discharge condition. In this case, that cost would involve removing the additional gasoline additive that the defendants would not be removing themselves as part of their remediation.
The defendants argued that primary restoration natural resource damages were only available if the NJDEP showed that the gasoline additive posed an "an injury or threat to human health, flora, or fauna," thus necessitating a more expedited and extensive (and expensive) remediation strategy. The defendants cited authority from several unpublished New Jersey state court opinions for their contention. They claimed that the NJDEP could not make such a showing and thus could not seek primary restoration damages, so they sought summary judgment as to those damages. The federal district court, however, strongly disagreed. The court stated that the defendants' position contradicted the plain language of the Spill Act, which speaks only in terms of "practicability."
The court found that, at trial, in order to seek primary restoration damages, the NJDEP needed only to establish by a preponderance of the evidence their primary restoration plan was "practicable," which means "'reasonably capable of being done' or 'feasible' in light of 'site-specific realities.'" The court denied the motion for summary judgment, allowing the issue of restoration damages to proceed to trial.
Let the Professionals at Lutz Handle Your Underground Storage Tank Issues
If you discover a UST at your construction worksite or if you have to respond to a UST spill on your property, you need qualified help from trusted advisors with years of underground storage tank experience. For seasoned, talented, and effective assistance, call Herbert Lutz & Company, in Florida at 954-971-5222, or in New Jersey at 908-862-8888.