Lutz Companies Announces No-Cost Initial Site Surveys for First Service Residential Customers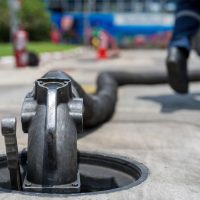 Understanding the lifecycle of your property's fuel storage system is critical in preventing costly and environmentally damaging incidents. For properties with underground storage tanks (USTs) or aboveground storage tanks (ASTs), recognizing the age and potential vulnerability of these systems is vital. In particular, if your building was constructed 30 years ago or longer, and the tank has never been replaced, it is statistically highly vulnerable to corrosion and potential fuel tank and line failures.
Typically, the life expectancy of a steel tank is approximately 20 to 25 years, while a fiberglass tank can last up to 30 years. As these periods elapse, the chances of system failures increase significantly. To help you act now and avoid a catastrophic failure of your UST or AST, Lutz Companies is offering initial site surveys to First Service Residential customers at no cost. Lutz is a leading name in the underground storage tank (UST) industry, and First Service Residential is a premier property management company serving thousands of communities in the U.S. and Canada. We are therefore delighted to offer our services to help keep First Service Residential properties and property owners safe.
The cost of an initial site survey is normally $500,00. However, Lutz Companies is extending this complimentary offer through December 2023. (offer limited to ten sites per client)
With a reputation built on expertise and trust, Lutz Companies offers a range of turnkey UST services in New Jersey and Florida, including installation and removal, compliance testing, lining and coating, and more. Your first step in protecting your property is finding out what types of tanks you have and what shape they are in.
What does an initial site survey involve?
An initial site survey is an in-depth evaluation of your current tank system and an opportunity to identify any potential issues before they become significant problems. During the survey, our experienced professionals will assess the condition of your tank, its surrounding area, and any connected systems. The purpose of the survey is to ensure your tank is operating safely and effectively and to help you plan for any necessary maintenance or replacements in the future.
Why conduct a survey now?
USTs and ASTs built today include double-wall tanks with interstitial sensors so that any tank issues can be addressed and remedied before their contents contaminate the property and groundwater, creating thousands of dollars in damage and remediation costs and causing untold harm to the environment. However, double-wall tanks and interstitial sensors did not populate the market much before 2000, and residential facilities were largely excluded from regulatory compliance measures.
Understandably, the preventive cost of a tank and piping upgrade with a double wall above ground or double wall underground tank is a fraction of the cost that will occur from a leaking fuel system resulting in contamination of the soil and water. The older your property is, the less likely it is to have this sort of equipment in place.
By offering these free initial site surveys, Lutz Companies aims to provide First Service Residential customers with the insights they need to avoid expensive and potentially hazardous tank failures. It's an important step forward in promoting preventive maintenance and safe operation in the tank industry.
We understand that dealing with underground storage tanks can be complex and daunting. That's why we're here to help you navigate the process and ensure your tank systems are safe, compliant, and in top shape.
Contact Lutz Today to Assess your USTs and ASTs in Florida and New Jersey
If your property has an underground or above-ground fuel tank for motor fuels or an emergency generator, contact Lutz Petroleum Equipment Installation in Florida at 954-971-5222 or Herbert Lutz Co., Inc. in New Jersey at 908-862-8888 for this opportunity to safeguard your property, protect the environment and guard against potential significant remediation cost. In Florida, contact Stu Lutz at stulutz@bellsouth.net or Kevin Moore at lutzpei@lutztanks.com. In New Jersey, contact Hank Lutz at hank.lutz@lutztanks.com or John Woetko at john.woetko@lutztanks.com. With Lutz Companies at your side, your property is in expert hands.