Appellate Court Rules Site Owner Not Entitled to Judicial Review Before Direct NJDEP Oversight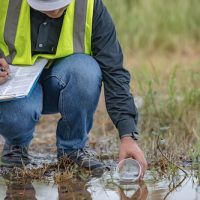 If you discover an Underground Storage Tank (UST) leak or other environmental contamination on your property, the best thing to do is to handle the cleanup yourself, with help from the proper licensed professionals. The last thing you want to deal with is Direct Oversight by the New Jersey Department of Environmental Protection (NJDEP). Direct Oversight is a costly and burdensome procedure, as would be expected when you have a government agency breathing down your neck.
A site owner recently tried to get out from under NJDEP's direct oversight by asserting certain good faith defenses and requesting pre-oversight judicial review. New Jersey's Appellate Division, however, ruled that the owner was not entitled to pre-oversight judicial review. Continue reading to learn about the case, and if you need assistance with a damaged or contaminated UST in New Jersey or Florida, call a professional underground storage tank (UST) remediation and removal expert at Herbert Lutz & Co.
New Jersey Appellate Division Says Site Owner Stuck With NJDEP Oversight Despite Good Faith Defenses
The case of In re N.J. Dep't of Envtl. Prot. Direct Oversight Determination concerns Solvay Specialty Polymers USA, LLC (Solvay), the owner and operator of a chemical manufacturing plant located along the Delaware River. Solvay was told that tests revealed the presence of perfluorononanoic acid (PFNA) and perfluorooctanoic acid (PFOA), two per- and polyfluoroalkyl substances (PFAS) (also known as "forever chemicals") in an area near their plant. Solvay began remediating the chemical presence in the area.
In September 2013, at NJDEP's request, Solvay entered into the agency's site remediation program and retained a licensed site remediation professional (LSRP) to oversee their progress. In March 2019, NJDEP issued a Statewide PFAS Directive to Solvay and other entities. The Directive determined that Solvay was responsible for the site's PFAS contamination affecting the surrounding area. The Directive provided a number of detailed requirements for Solvay to follow in its remediation efforts. Failure to comply with the Directive within the established site-specific time frame would open Solvay up to liability under the Spill Compensation and Control Act ("Spill Act"), including possible treble damages.
In April 2019, Solvay responded to the Directive and asserted good cause defenses. As explained by the court:
Solvay argued it is not liable under the Spill Act for PFAS impacts not caused by the Site, DEP's attempt to shift the cost of investigating and remediating PFAS impacts Statewide to Solvay and other entities was unreasonable, especially given DEP's knowledge of other PFAS sources not included in the Statewide Directive, and DEP's claim for past costs lacked sufficient evidentiary support.
In September 2020, NJDEP issued a Determination that Solvay must be subject to Direct Oversight by the agency because Solvay had failed to comply with site-specific time limits and the contamination had affected sensitive natural resources. Direct Oversight includes several additional, onerous burdens, such as finding new funding and submitting to regular reporting requirements.
Solvay appealed the Direct Oversight Determination, and six days later, NJDEP filed a complaint in the Law Division against Solvay looking to enforce the Statewide PFAS Directive. On appeal, Solvay claims that its due process rights were violated because it was subject to punishment by way of the Direct Oversight Determination before it had the chance to even assert its good faith defenses to the Statewide PFAS Directive. Essentially, Solvay argued that all of its obligations under the Statewide PFAS Directive should have been subject to judicial review before it needed to comply with the Directive, which explains why it did not comply with the Directive's timeframe.
Ultimately, the Appellate Division disagreed with Solvay. Solvay relied on a case in which treble damages had been imposed before the site owner was allowed to obtain judicial review of a directive. The Appellate Division found that imposition of Direct Oversight was not a penalty that triggered due process concerns like the imposition of treble damages, even though it can lead to an enhanced financial burden for the subject. Solvay can still fight any imposition of penalties in the Law Division by pointing to its good faith defenses as justification for failing to follow NJDEP's timetables. Meanwhile, the site owner must still adhere to the requirements imposed by Direct Oversight.
Call the Dedicated and Thorough UST Remediation Experts at Lutz for Your Underground Storage Tank Issues
If you discover a UST at your construction worksite, if you have to respond to a UST spill on your property, or if you inherit contaminated property in your asset purchase, you need comprehensive help from trusted advisors with years of underground storage tank experience. For seasoned, detail-oriented assistance dealing with a UST on your property, call Herbert Lutz & Company in Florida at 954-971-5222, or in New Jersey at 908-862-8888.