Thousands of Lawsuits Target Contaminated Water at Military Base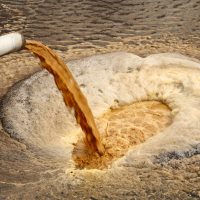 A number of lawsuits are being filed by plaintiffs from around the country concerning what may be one of the worst-ever cases of water contamination in the United States. The lawsuits are being brought by military personnel who were previously stationed at the Camp Lejeune Marine Corps base in North Carolina. After discovering that there may indeed have been contamination at the base–caused by a combination of waste dumping and underground storage tank (UST) leaks–the federal government passed a law specifically to allow people who were stationed at the base to bring claims, even decades later. Continue reading to learn about the contamination and the claims, and if you need assistance with a damaged or contaminated UST in New Jersey or Florida, call a professional underground storage tank (UST) remediation and removal professional at Herbert Lutz & Co.
Water Contamination at Camp Lejeune
According to reports, water sources at the Marine Corps base at Camp Lejeune became contaminated by multiple sources. Two wells at the base were contaminated with a combination of trichloroethylene (TCE), perchloroethylene (PCE), benzene, vinyl chloride, and other volatile organic compounds (VOC). The contaminated well water also migrated to a nearby water treatment plant, where it was mingled with other wells and contaminated essentially the entire water source for the base.
One of the contamination sources has been identified as a dry cleaner outside the base. Starting in 1953, the dry cleaner allegedly dumped wastewater contaminated with PCE. Additionally, reports indicate compromised USTs leaked upwards of 1,500 gallons of fuel every month into the water sources.
Reports indicate that some of these conditions were known and left unaddressed or reported as not required to be addressed. When the public discovered the contamination, the government dismissed the contamination as including only "trace" amounts–despite VOCs presenting at hundreds of times above approved safety levels. The wells and treatment plant were not closed until the mid-1980s.
The Camp Lejeune Justice Act and Lawsuits
In August 2022, Congress passed and President Biden signed the bipartisan Camp Lejeune Justice Act (CLJA). The purpose of the law is to give military personnel, employees at the base, family members, and others who resided at Camp Lejeune during the contamination period the right to bring civil claims based on any resulting illness or injuries. Those claims would otherwise be time-barred by state law, even though it may have taken decades for any of the injured parties to realize that their conditions could have been connected to contamination at the base.
Per the CLJA, veterans and other individuals who were otherwise exposed to the water contamination at Camp Lejeune for at least 30 days between August 1, 1953, and December 31, 1987, are permitted to sue the federal government in North Carolina for any harm caused. Since the passage of the CLJA, thousands of claims have been filed by vets from around the country who were stationed at Camp Lejeune during the relevant period. The contaminants discovered in the Camp Lejeune water supply have been connected to leukemia, non-Hodgkin's lymphoma, aplastic anemia and other myelodysplastic syndromes, female infertility, and a variety of cancers.
The massive scandal and resulting legal claims are a stark reminder of the importance of proper maintenance and remediation. Contamination left unchecked for years can devastate any number of lives and lead to millions upon millions of dollars in liability. Even the federal government has a responsibility to address compromised USTs and other sources of pollution to avoid disastrous consequences.
Call the Experienced and Comprehensive UST Remediation Pros at Lutz for Your Underground Storage Tank Issues
If you discover a UST at your construction worksite or if you have to respond to a UST spill on your property, you need experienced help from trusted advisors with years of underground storage tank experience. For thorough, dedicated assistance dealing with a UST on your property, call Herbert Lutz & Company in Florida at 954-971-5222, or in New Jersey at 908-862-8888.