New Jersey Appellate Court Rules State Can't Claim Trespass for Water Pollution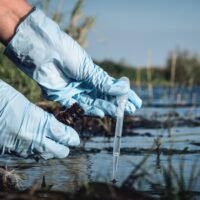 We have previously discussed claims brought by the New Jersey Department of Environmental Protection ("NJDEP") against Amerada Hess Corp ("Hess") in connection with alleged groundwater contamination and NJDEP's remediation efforts. NJDEP recently brought additional claims against Hess for other instances of alleged contamination in Woodbridge Township, New Jersey. On top of the New Jersey Spill Compensation and Control Act (the "Spill Act") claims, NJDEP brought common law claims of nuisance, trespass, and strict liability. The New Jersey Appellate Division recently upheld the dismissal of several of the state's claims against Hess in a decision that provides useful insight as to the various types of liability an alleged polluter might face after a UST spill. Read on to learn about the case, and reach out to licensed UST remediation and removal professionals if you need assistance with a damaged or contaminated UST.
The state cannot claim trespass over land it does not exclusively possess
The more recent NJDEP v. Hess matter concerns a 1969 underground storage tank (UST) failure that allegedly contaminated nearby creeks and wetlands, as well as a few additional lesser discharges, in a New Jersey town. NJDEP alleged that the defendants failed to assess or restore the injured natural resources, including groundwater, surface water, sediment, wetlands, and biota.
NDJEP brought trespass and strict liability claims, among others, against the defendants. The appellate court upheld the strict liability claim based on storage and possession of crude oil being an "abnormally dangerous activity." When a defendant engages in an abnormally dangerous activity and a person or property is harmed as a result, the defendant might be liable even if they did not act negligently. The defendants sought to dismiss the strict liability claims by arguing that the Spill Act already provides the means for recovery and should be the exclusive remedy. The court stated that Spill Act claims are not exclusive and may be brought in addition to common-law strict liability claims.
Regarding trespass, NJDEP alleged that the contamination amounted to an unauthorized physical invasion of property owned by the State of New Jersey. The appellate court found that trespass claims are only allowed where the plaintiff is in "exclusive possession" of property. Water resources are not "exclusively" possessed by the state–rather, the State's water ownership is specifically meant to allow the public to enjoy the water resources. Because anyone can use the water and enter the "property," it is not in the exclusive possession of the state, and the government cannot claim trespass for contamination.
Let the Professionals at Lutz Handle Your Underground Storage Tank Issues
If you discover a UST at your construction worksite or if you have to respond to a UST spill on your property, you need qualified help from trusted advisors with years of underground storage tank experience. For dedicated, professional, efficient assistance, call Herbert Lutz & Company, in Florida at 954-971-5222, or in New Jersey at 908-862-8888.