Can You Be Liable Under the Spill Act if You Weren't the Discharger?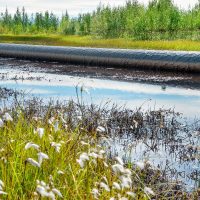 New Jersey's Spill Compensation and Control Act (Spill Act) imposes liability on companies that discharge hazardous chemicals into the environment. It's generally understood that, to be liable under the Spill Act, your company must have been responsible for the discharge, i.e., you owned the land where the underground storage tank (UST) was located and you "allowed" the spill to occur. Even if you bought the land from another party who was arguably more responsible for the spill, you still own the land and had the chance to inspect for possible contaminants.
Recently, the New Jersey Department of Environmental Protection (NJDEP) instituted an enforcement action that seems to counter the basic principle that liability is reserved for the party in control of storing the chemicals that were discharged. Continue reading to learn about the claims, and if you need assistance with a damaged or contaminated UST in New Jersey or Florida, call an expert underground storage tank (UST) remediation and removal expert at Herbert Lutz & Co.
NJDEP Sues Monsanto for Manufacturing PCBs
The Spill Act imposes liability on the parties responsible for a chemical spill that harms the environment. The statute opens the door for liability for any party that is "in any way responsible" for discharged hazardous substances. We've seen liability imposed upon the owners of a contaminated site, the former owner of a site if the leak happened during their tenure, the parent company of a subsidiary that owns the site, and successors in interest. NJDEP's recent enforcement action seeks to expand this language even further.
NJDEP filed a lawsuit in state court against Monsanto Co., Solutia LLC, and Pharmacia LLC, all linked to the original Monsanto (Old Monsanto) before Monsanto reorganized its business into three separate companies. The lawsuit seeks natural resource damages for alleged polychlorinated biphenyl (PCB) contamination across the entire state of New Jersey. Old Monsanto manufactured, distributed, and sold PCBs from a facility along the Delaware River in Bridgeport, Gloucester County.
The lawsuit alleges that Old Monsanto was responsible for "99 percent or more" of the PCBs used or sold in the U.S. Monsanto allegedly knew of the health and environmental risks of these chemicals but continued to distribute PCBs. After being sold, many of these chemicals were later leaked into the environment. NJDEP argues that, as the primary manufacturer and distributor of PCBs, Old Monsanto (and its successors) is "in any way responsible" for the spills. Old Monsanto allegedly knew of the dangers of PCBs, failed to warn customers, knew that discharge was "inevitable," and advised customers on disposal methods that would lead to discharge in the environment.
If the novel theory of liability holds, manufacturers of hazardous chemicals may find themselves open to liability. For example, recently there's been a wave of lawsuits concerning poly- and perfluoroalkyl chemicals (PFAS), so-called "forever chemicals" that are present in a wide range of consumer products. Many of these lawsuits sound in consumer protection law, but both private and state plaintiffs have found some initial success in bringing environmental contamination claims against PFAS manufacturers as well.
The takeaway for any party with a UST or other chemical storage operation on their property: Be careful, watch for leaks, and remediate fully. If a company like Monsanto is held liable for manufacturing chemicals, there's no reason they wouldn't seek indemnification from other parties arguably "responsible" for allowing those chemicals to contaminate the environment. The Spill Act imposes strict, joint, and several liability for all responsible parties, regardless of fault. Manufacturers of toxic chemicals should remain wary and defensive of any new theory of liability until the validity of these arguments is put fully to the test.
Call the Professional and Experienced UST Remediation Experts at Lutz for Your Underground Storage Tank Issues
If you discover a UST at your construction worksite, if you have to respond to a UST spill on your property, or if you inherit contaminated property in your asset purchase, you need comprehensive help from trusted advisors with years of underground storage tank experience. For thorough, comprehensive assistance dealing with a UST on your property, call Herbert Lutz & Company in Florida at 954-971-5222, or in New Jersey at 908-862-8888.