New Jersey AG Announces Seven New Environmental Enforcement Actions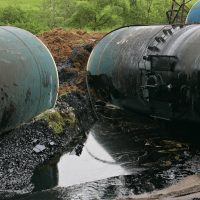 If you are developing a new property or managing an existing property, the last thing you want to discover is a fuel leak. A damaged underground storage tank (UST) can open you up to significant liability from private citizens in the area as well as enforcement actions brought by the state. New Jersey has been cracking down on pollution and contamination in recent years, as we've talked about before. Acting Attorney General Matthew Platkin and the Commissioner of Environmental Protection (NJDEP) Shawn LaTourette recently announced another wave of environmental enforcement actions aimed at companies across the state, including an environmental justice action regarding compromised USTs. Continue reading to learn about the enforcement actions, and call a professional underground storage tank (UST) remediation and removal professional if you need assistance with a damaged or contaminated UST.
NJ Environmental Justice Action Targets Damaged USTs
One of the enforcement actions recently announced focuses on compromised USTs at the site of a former gas station in Ewing, which now operates as a strip mall. According to the three-count complaint, defendant Sigma Realty purchased the property at issue in 1993 but failed to address petroleum product contamination caused by five USTs leaking leaded gasoline and oil into the surrounding area. The state's action was brought pursuant to the Spill Compensation and Control Act, the Site Remediation Reform Act, and the Brownfield and Contaminated Site Remediation Act.
The state took particular exception to the damaged USTs because of the tainted property's location. According to the complaint, the affected property is located near a high school, a childcare center, and a creek. Sigma is being called upon to fully investigate and clean up the site, pay outstanding remediation fees, and pay additional penalties for failing to comply with a prior order regarding the contamination.
Enforcement Actions Focus on Environmental Justice
The seven enforcement actions brought by the state are intended to further New Jersey's environmental justice initiative. In recent years, the state has focused on addressing pollution in overburdened areas–areas that have significant low-income, minority, and/or limited English proficiency populations. The Environmental Justice Law was passed to address concerns that these overburdened areas disproportionately suffer from pollution, having been overlooked and ignored by past administrations.
The actions here target contamination in many overburdened communities. The actions include:
Waste disposal and chemical processing companies causing alleged contamination on Avenue P in Newark, near the Essex County Correctional Facility

Former oil service station owners allegedly permitted discharges of gasoline and fuel into the soil on Lawrence Street in Rahway City

Illegal dumping at a former coal ash disposal site on Tremley Point Road in Linden

Failure to adhere to a remediation plan for soil and groundwater contamination caused by a metal manufacturing plant on Lincoln Boulevard in Middlesex Borough

Enforcement of a remediation order targeting compromised underground storage tanks at a former gas station on North Olden Avenue in Ewing

Soil, air, and groundwater contamination caused by several former dry-cleaning establishments on Grove Street in Elmwood Park Borough

Settlement of a matter involving plant emissions, leaks from damaged equipment, stack test failures, and the processing of inappropriate raw materials at a facility on 2nd Street in Camden City
Current and former owners and operators of businesses on these premises face significant liability under the Spill Compensation and Control Act, the Brownfield and Contaminated Site Remediation Act, the Site Remediation Reform Act, the Water Pollution Control Act, and the Safe Drinking Water Act.
The wide reach of NJDEP and the AG's enforcement actions serve as a reminder to property owners to ensure they conduct full inspections and thoroughly remediate any possible contamination on their properties. New Jersey can and will haul in former business owners years or even decades down the line when contamination can be traced back to their actions or inaction.
Call the Qualified and Thorough Remediation Pros at Lutz for Your Underground Storage Tank Issues
If you discover a UST at your construction worksite or if you have to respond to a UST spill on your property, you need comprehensive assistance from dedicated advisors with years of underground storage tank experience. For thorough, effective assistance dealing with a UST on your property, call Herbert Lutz & Company in Florida at 954-971-5222, or in New Jersey at 908-862-8888.