New Jersey Files Six New Environmental Lawsuits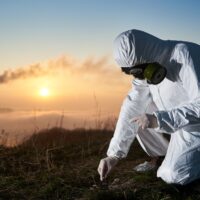 As part of its push for aggressive environmental justice initiatives, New Jersey's Attorney General and the Department of Environmental Protection (NJDEP) recently announced the state's filing of twelve aggressive environmental enforcement actions against alleged polluters, specifically targeting defendants who allegedly polluted in minority and low-income communities around the state. The new batch of "environmental justice" lawsuits add on to the six filed last October, which we previously discussed, as well as more than 20 others dating back to 2018. Many of these concern underground storage tank (UST) spills and alleged failures in cleanup efforts. The new batch of environmental enforcement actions is another reminder of the importance of retaining qualified, licensed UST remediation and removal professionals to handle a damaged or contaminated UST.
Twelve Lawsuits Target Alleged Polluters in New Jersey's Largest Cities
NJDEP and the Attorney General recently announced twelve new lawsuits targeting alleged polluters in New Jersey's three largest cities – Newark, Jersey City, and Paterson – as well as the surrounding communities and two cases in Cumberland County. In each case, the defendant is alleged to have permitted contamination in levels unsafe for human health. Many of the cases involve USTs that leaked and were improperly or illegally removed or remediated.
One case against Little Mason Properties, LLC, alleges that the company caused pollution via underground storage tanks and other sources at sites in Newark, Hillside, and South Orange. Per the complaint, each site is located at a gas station, as well as a former dry cleaning business in Hillside. The complaint alleges gasoline contamination at each site and contamination of the carcinogen trichloroethylene (TCE) at the dry cleaners.
Another case involves allegations that Orange Automotive failed to remediate spills from multiple USTs in Orange, and that the holding company that owns the property has so far failed to pay the $40,000 in fines for previous violations.
An auto repair business in Jersey City is alleged to have illegally removed a UST from its property, leaving behind contaminated dirt. The business allegedly refused to comply with orders from the state to properly remediate the site and the contamination.
These are just a few of the most recent examples of NJDEP enforcement actions concerning UST spills and improper remediation. If you have a UST on your property, it is vital that you hire professionals who know how to do the job right, lest your organization join the dozens of others facing millions of dollars in fines and penalties across the state.
Call the Remediation and Removal Professionals at Lutz to Handle Your Underground Storage Tank Issues
If you find a UST at your construction worksite or are dealing with a UST spill on your property, get help from experienced experts with years of dedicated service to real estate developers and managers. For seasoned and effective assistance, call Herbert Lutz & Company, in Florida at 954-971-5222, or in New Jersey at 908-862-8888.