NJDEP Proposes Rules Implementing Environmental Justice Initiative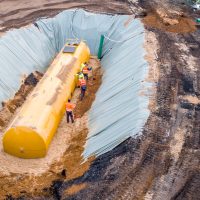 In September 2020, New Jersey Governor Phil Murphy signed into law a new Environmental Justice Law (EJL). At the time, we discussed the New Jersey Department of Environmental Protection's (NJDEP) plans for implementation of the landmark EJL as well as ramped-up NJDEP enforcement efforts meant to further the goal of environmental justice. Recently, NJDEP issued a proposed rule implementing regulations designed to further the goals of the EJL. Read on to learn about the proposed rule and NJDEP's planned efforts to promote environmental justice, and call on professional, licensed UST remediation and removal professionals to help you respond to a damaged or contaminated underground storage tank (UST).
NJDEP to Require Enhanced Procedures for Obtaining Operational Permits in Overburdened Communities
The main goal of New Jersey's Environmental Justice Law, enacted in 2020, was to assess and respond to the disproportionate impact contamination and pollution have had on vulnerable communities, also called overburdened communities (OBCs). The EJL reflects New Jersey's commitment to ensuring that all New Jersey residents, regardless of income, race, national origin, or other characteristics, are entitled to live and thrive in a clean, healthy environment. The EJL also reflects the state's findings that members of OBCs have been disproportionately affected by environmental and public health stressors, including landfills, waste facilities, factories, and other high-pollutant facilities.
Since October 2020, NJDEP has been developing regulations to implement the goals of the EJL. On June 6, 2022, NJDEP published a notice regarding a proposed rule intended to implement the EJL's mandates. The proposed rule attacks the problem by way of permit requirements for certain types of facilities identified as high environmental stressors. Under the proposed rule, purveyors of covered facilities will need to conduct environmental assessments and prepare an environmental justice impact statement concerning existing and proposed environmental stressors before obtaining permits to build or operate in an overburdened community. Existing facilities will need to renew current permits in line with the new regulations.
Facilities affected by the new rule include sources of air pollution, sewage treatment facilities, incinerators, resource recovery facilities, recycling and scrap metal facilities, medical waste incinerators, and other facilities likely to generate substantial waste or pollution. Applicants will need to assess and address a number of environmental factors in overburdened communities in order to obtain or renew permits, including concentrated or mobile sources of air pollution, contaminated sites, sources of water pollution, conditions that could have adverse health impacts on local populations, and other items such as population density. Permit applicants will need to address existing environmental stressors that may be exacerbated by proposed activities as well as new stressors that may arise as a result of the applicant's activities, and propose a plan for dealing with those stressors.
Applicants for permits within an overburdened community will be subject to a public engagement period after the initial NJDEP review. The applicant will hold a public hearing in the community, with sufficient notice given to the community, and offer an opportunity for public response and comment. Following the application and public comment period, NJDEP will issue a written decision. NJDEP will issue a permit if the project can be undertaken without a disproportionate impact on the community and community members. If there will be a disproportionate impact, the applicant must demonstrate a compelling public interest the facility will serve within the overburdened community.
Call the Remediation and Removal Professionals at Lutz to Assist With Underground Storage Tank Issues
If you find a UST at your construction worksite or are dealing with a UST spill on your property, get help from seasoned experts with years of stellar service to real estate developers and managers. For thorough, effective assistance, call Herbert Lutz & Company, in Florida at 954-971-5222, or in New Jersey at 908-862-8888.