New Jersey Set to Appoint Chief Enforcement Officer of NJDEP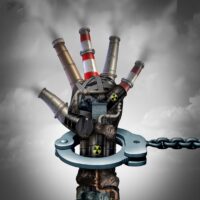 New Jersey Governor Philip D. Murphy has taken another step in pursuit of enhanced environmental regulation and enforcement. Following the Executive Order in his first term requiring the New Jersey Department of Environmental Protection (NJDEP) to develop guidance for state departments to incorporate environmental justice (EJ) considerations into their actions, the governor later signed a landmark Environmental Justice Law. A number of EJ initiatives have since been pursued, as we previously discussed. Recently, the state proposed aggressive goals for the reduction of CO2 emissions in the near future. As part of the effort to enforce all of these initiatives and goals, NJDEP has made moves to consolidate its enforcement efforts into a single agency office. Read on for a discussion of the new agency office and its first head, and call a dedicated underground storage tank (UST) remediation and removal professional if you need assistance with a damaged or contaminated UST.
NJ Establishes Office of Enforcement Policy, Soon to Appoint First Chief Enforcement Officer
NJDEP under the leadership of the Murphy Administration, fresh off reelection, continues its aggressive enforcement policies with no signs of slowing. The Office of the Commissioner now includes an Office of Enforcement Policy. This new office will oversee all enforcement policy at NJDEP.
The newly-created office marks a change in NJDEP's approach to enforcement. Prior to creation of the Office of Enforcement Policy, the Compliance and Enforcement Section enforced its policies based on the specific type of product at issue (air, water and land use, solid waste, etc.). Now, the separate enforcement programs will operate under a single, unified leadership. The new structure suggests that enforcement will continue to be a top priority for NJDEP. NJDEP will soon appoint a chief officer to lead the Department's enforcement policy.
In recent years, NJDEP has already been issuing penalties and violation notices at a rapidly increasing rate. We've seen a record number of enforcement actions. Consolidation of enforcement priorities and leadership will only lead to more and more aggressive enforcement actions in the near future. New Jersey has some of the most demanding environmental policies in the country, and we can expect enforcement efforts to continue ramping up. It's more important than ever to ensure compliance with New Jersey environmental rules and regulations, including by disposing of fuel and remediating contaminated properties in a thorough, compliant fashion.
Call the Experienced, Dedicated Pros at Lutz for Your Underground Storage Tank Issues
If you discover a UST at your construction worksite or if you have to respond to a UST spill on your property, you need tried-and-true help from seasoned advisors with years of underground storage tank experience. For effective, thorough assistance dealing with a UST on your property, call Herbert Lutz & Company in Florida at 954-971-5222, or in New Jersey at 908-862-8888.